Work package: Archaeological investigations in respect to the origin and development of oasis settlements in Oman
Contact Person: Dr. Jutta Häser, German Protestant Institute of Archaeology, Amman
Scientific staff and PhD students: Dr. Jutta Häser, Dr. Jürgen Schreiber, Frank Voigt, M.A.
Objectives: The research is focused on processes of transformation throughout history, regarding the architecture and material culture, the economy and ecology of the oasis settlements in a regional and interdisciplinary approach. The aim of the archaeological study is the investigation of the settlement in respect to their establishment and development as well as their ecological setting.
Study locations:
---
Archaeological survey at Nizwa in 2005
The oasis of Nizwa is one of the main oasis settlements in Oman in historical times as well as today and was for some hundred years the capital of Oman. It is situated at the southern foot of the Jebal al-Akhdar where the ophiolite mountains are cut by the Wadi al-Abyad and the Wadi Kalbuh creating a flat depression. It extends from Farq in the south to Wadi Sumit in the north over a distance of 20 km. The east-west extension is not more than 3 km. Today, the city has about 60.000 inhabitants.
Only few archaeological investigations have been undertaken before. De Cardi and Doe discovered two large round structures of the Umm an-Nar period (2700-2000 B.C.) at Farq (Doe 1976, 159-160; 1983, 67). A third one was found by J. Orchard (Orchard 2000, 225, footnote 2; Orchard/Stanger 1999, 91, footnote 2). A tomb with a large collection of weapons was discovered at Jebel al-Hawrah east of Alayat Nizwa respectively north of So'al (Shanfari/Weisgerber 1989) which can be dated around 1200 B.C. The most important Mosques have been investigated by Costa (2001). Bandyopadhyay (2005) surveyed and analysed the architecture of Harat al-Aqr in the quarter of Sufalat Nizwa. Ibrahim (2001) published the inscribed gravestones of one of the large cemeteries at Nizwa.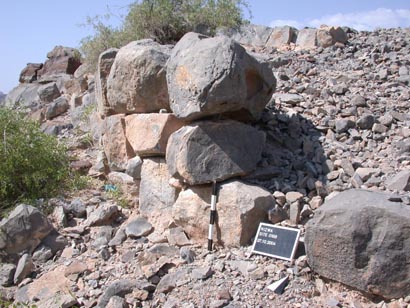 Fortification of the Umm an-Nar period in the north of the oasis of Nizwa © 2004 DAI Orient-Abteilung Berlin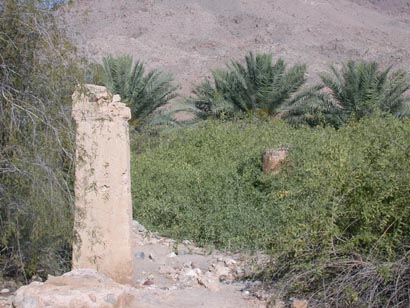 Remains of the old Friday Mosque at Samad al-Kindi © 2004 DAI Orient-Abteilung Berlin
Support
The archaeological project was financed by the German Institute of Archaeology, the Sultan Qaboos University Muscat and the German Research Foundation.

Publications
| | |
| --- | --- |
| | |
| | Schreiber, J. 2005. Jahresbericht der Orient-Abteilung 2004: Oman. Archäologischer Anzeiger 2004, 249-251. |
| | Schreiber, J. 2007. "Transformation processes in oasis settlements in Oman" - 2005 archaeological survey at the oasis of Nizwā: a preliminary report. Proceedings of the Seminar for Arabian Studies 37, 1-13 |
| | Schreiber, J. 2007. Transformationsprozesse in Oasensiedlungen Omans. Die vorislamische Zeit am Beispiel von Izki, Nizwa und dem Jebel Akhdar. PhD-thesis |
© Jutta Häser